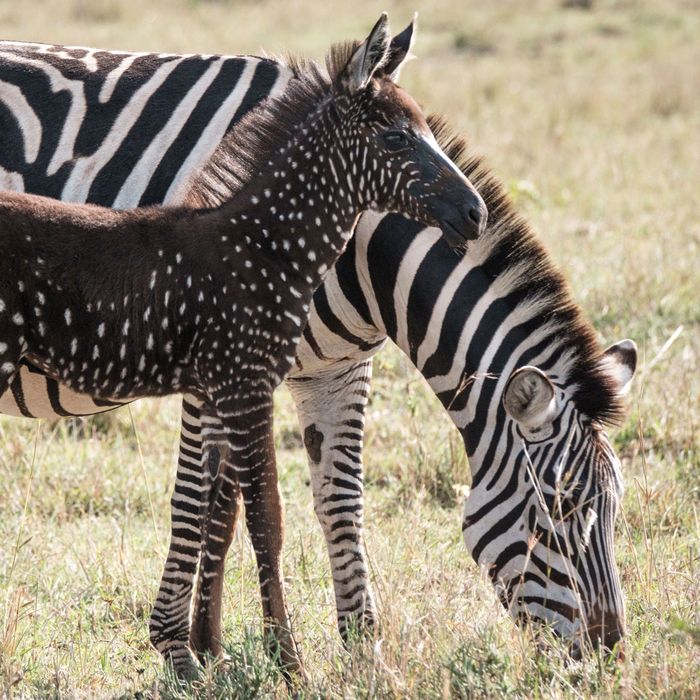 Photo: Yasuyoshi Chiba/AFP via Getty Images
Packing is hard. Especially when the destination might involve giant mosquitoes or Instagram-worthy hiking trails. What do frequent travelers to these spots — the ones who best know how to prepare for the conditions — put in their suitcases? We'll be tackling this in our series "The Trip List."
Going on an African safari and spotting animals like lions and zebras in their natural habitat is a once-in-a-lifetime opportunity. Since it's not something most people do very often, it's also not the easiest trip to pack for. For those lucky enough to have a safari in their future, we've rounded up a group of experienced tour guides and travel planners (with hundreds of safaris collectively under their belts) to help you out.
"People always overpack. I think that's the biggest mistake," says Deborah Calmeyer, founder and CEO of the safari trip organizer Roar Africa. She explains that, in terms of clothing, you generally just need a few casual pieces, as there aren't many occasions to dress up on safari. Most lodges also offer laundry service with a quick turnaround time, so there's no need to pack a new outfit for each day of your trip. Instead of prioritizing style, safari experts say to focus on layering, as you'll spend most of your time outdoors on game drives in open-air vehicles. It might be chilly when you leave your lodge in the early morning but heat up quickly when the sun comes out. "If you're out after sunset when the temperature drops, those layers will come in handy again," says Calmeyer.
Before you start packing, learn the luggage requirements of your particular trip, which will determine how much you can bring. Even if you fly to Africa on a major international airline, once you're in the bush, you'll travel from site to site on small aircrafts with limited space. "The portal leading into the luggage compartments is quite small, and the bags have to be smushed and manipulated into these little cargo areas," explains Kota Tabuchi, the managing director for African travel at the trip-planning consultancy Travel Beyond. Depending on your destination, weight limits can range from roughly 33 to 42 pounds, with lower limits more common in East Africa and higher maximums generally seen in South Africa. Choose a soft duffel bag (check your airline's rules to confirm whether wheeled bags are allowed), as you can't bring hard-sided luggage on many small planes.
You're likely going on safari to encounter wild animals (especially the big five: lions, leopards, rhinoceroses, elephants, and buffalo), so don't scrimp on binoculars and cameras that will help you get the best view and capture the best memories of your sightings. Below, our experts share their top picks for the gear that'll make your trip comfortable and memorable, plus everything else you'll need for a perfect safari.
As stated above, a soft-sided duffel bag is your best bet for traveling on safari. Tabuchi has owned this North Face bag for more than 15 years now and has brought it on multiple safaris each year. He calls it "absolutely bombproof." The lightweight and roomy duffel should hold everything you need, and it is compliant with most African airline requirements. If you want another option, Tabuchi also likes the very similar Patagonia Black Hole bag (a longtime Strategist favorite).
At under $100, this bag is an affordable pick that was mentioned by several safari pros, including Ina Steinhilber, president of tour operator Thomson Safaris. It's lightweight, too, clocking in at just over two pounds, leaving plenty of room under the weight allowance for your stuff.
If you're allowed to bring a soft duffel with wheels, this Osprey bag gets rave reviews from Wil Smith, founder and director of travel organizer Deeper Africa. "Make sure the bag is water resistant and has a storm flap over the zipper," he says. "On a safari, you're out on bumpy roads, and you never know if your bag's going to end up out in the rain, dust, or dirt. It probably won't, but you want to prepare for anything." He says this bag checks all his boxes and even has lockable zippers.
"These are a must for finding clothing easily in the soft-sided duffel," says Kristina Jackson, a senior safari and Kilimanjaro travel consultant at Thomson Safaris. Many frequent travelers have recommended packing cubes to us in the past (including the eBags set) because they compress your gear to save space — even more crucial when you have a tight luggage allotment. "After safari, you may find yourself using them more often," says Jackson. "They make traveling so easy."
According to Joel Cody, sales and marketing director at Thomson Safaris, you'll also want a backpack for your daily game drives to carry things like extra layers, bug spray, and binoculars. Because it folds down into a compact pouch, he suggests this Paravel backpack, as you can easily fit it into your larger luggage.
"Layers are the most practical way to cope with fluctuating daytime and nighttime temperatures," says Sherwin Banda, president of the safari trip operator African Travel, and pretty much all of our experts agree. A basic tee is a good first layer, and in the summer you might not need more than a long-sleeved shirt on top for the chilly morning and evenings. "We all have one of these," says Ali Riley, art director of Thomson Safaris, of this polyester button-up. She likes that it's comfortable, moisture-wicking, and offers UPF 40 protection from the sun.
If you prefer natural fibers, Cody recommends these linen long-sleeved shirts from Uniqlo. "They're lightweight and comfortable, and you can wear a T-shirt or tank underneath for layering," he says. "They look good after they're washed and are available at an excellent price point."
Patagonia pieces came up a lot among our experts, who like how they're made sustainably and designed for travel and adventure. For a slightly warmer second layer, Cody likes this half-zip, which is made from a moisture-wicking fabric and locks in body heat. He tells us it "provides warmth without bulk, and doesn't take up much room in a backpack."
An even warmer jacket is a good option to have with you even in the summer. Elizabeth Gordon, co-founder and CEO of the safari company Extraordinary Journeys, explains that many popular safari locations, such as Tanzania's Ngorongoro Crater, are located at high altitudes and may be chilly year-round. For cold nights and mornings, she loves Patagonia's Nano Puff jackets. "They weigh practically nothing and somehow always keep me at the right temperature," she says. For a less-expensive option, Gordon also likes ultralight down jackets from Uniqlo, available for both men and women.
Photo-Illustration: retailer
"A light rain jacket can double as a windbreaker, so it's good to bring no matter the time of year, [especially] with the changing rain patterns," says Gordon. She says spring and fall are typically the rainy seasons in East Africa, but climate change has made the weather less predictable. To make sure you'll have coverage in the event of an unexpected storm, she recommends this packable, lightweight Patagonia jacket.
There's no need to go out and buy special pants for your safari — chinos, leggings, and shorts are all generally fine (though some experts advise against jeans because they're heavy to pack). If you want to really get in the spirit, however, Riley suggests these convertible pants from Eddie Bauer. You can wear them as long pants in the morning and then roll them up into capris when the weather heats up. "They're extremely comfortable, if not overly stylish," she says. Here's a similar style for men that unzips into shorts. Even if it's warm out, our experts like having the option of long pants in the evenings when mosquitos are out.
Leggings and yoga pants are especially popular on safari because they're lightweight and comfortable, especially if you're going to be sitting in a Jeep all day. If you anticipate being cold, a fleece-lined pair is good to have too. "In case you get a cold night in Ngorongoro, these are great to sleep in, are inexpensive, and don't take up a lot of room," says Cody.
Although most lodges have laundry services — often complimentary for guests — many won't wash women's underwear because of cultural norms in certain countries. Since you may have to wash your own underwear in your bathroom sink, go with pairs made for exercise or travel that are designed to be fast-drying. "Ideally you want clothing that is easy to wash and dry," says Smith. He includes underwear in this category, especially for women. Ex Officio (which makes some of our favorite men's and women's underwear) specializes in quick-drying materials that'll make it easy for you to do your own wash.
Gordon points out that most lodges have pools, and getting in an afternoon dip is a great way to cool down after a long day out in the bush. Obviously, go with whatever swimsuit you love, but if you want some Strategist-approved picks, check out out recommendations for men and women (plus bikinis). Here are two crowd-pleasers that earned our seal of approval.
Unless you're trekking through the mountains to see gorillas, safaris are mostly sedentary experiences spent on Jeeps or Land Rovers driving through wildlife preserves to catch a glimpse of the big five. Our experts say there's no need to waste precious luggage space on heavy hiking boots, as you'll likely be doing only a bit of walking outside the vehicle. Jackson suggests wearing Toms. "They're perfect to slip on and off while in the vehicle throughout the day and are also very lightweight." Similarly, her colleague Cody swears by Vans, telling us, "They're so easy to take off and on and are washable. I wore these all the time."
If you do anticipate doing more active walking on your trip, both Smith and Tabuchi recommend trail-running shoes. They're not as bulky as hiking boots (which our experts say aren't necessary for most safari terrain) but still offer stability and traction. "They're very sturdy," says Smith. "You want good traction because if you get out of the car and it has been raining, the ground may be a little slippery." Tabuchi says any trail runners with a solid rubber sole should do the trick. The lightweight Hoka One One Torrent is popular among trail runners and should be rugged enough to get you through your safari adventure.
Although our experts recommend closed-toe shoes while you're out on game drives, they say to also bring a pair of flip-flops or sandals for when you're relaxing back at your home base. "It's great to have some comfortable flip flops for your tent or your lodge or around the campfire," says Smith. You'll also want to wear your flip-flops at the pool if your lodge has one. Brazilian-made Havaianas are an affordable yet stylish option that we've written about before.
In the past, we've covered how merino-wool socks are ideal for all types of activities including running, biking, and hiking. Their temperature-regulating and moisture-wicking properties also make them perfect for safari. Steinhilber says Smartwool socks will "keep your feet warm on cool nights" and, given their lightness, will also be comfortable on daytime game drives.
Calmeyer says a shawl or pashmina will "never go to waste on safari" because it's an all-in-one piece that you can use to stay warm, block out the sun, or even zhuzh up your casual clothes for a candlelit dinner back at the lodge. Gordon agrees, telling us she always brings a scarf "to dress everything up, or protect from dust." Nicole Scherr, a former marketing project manager at Thomson Safaris, likes this specific shawl because it's lightweight, quick-drying, and has UPF sun protection. "It's great for the plane because it becomes a small blanket, and it's also light enough to drape over yourself in the vehicle to protect from getting a burn," she says.
If you're not into shawls, a bandana or multipurpose gaiter can help with sun protection and keeping dust off your face. These two are favorites of the Thomson Safaris team. The UV-protective Buff also has built-in insect repellent, which you'll appreciate when the mosquitoes come out.
Since you'll be out in the sun for most of the day, all of our experts recommend a hat — both to prevent burning and to keep the sun out of your eyes so you can focus on the wildebeest migration or whatever amazing sight you've come across on your drive. Tabuchi recommends "a baseball cap at the very minimum," but if you want even more coverage, several of our experts suggested a wide-brimmed hat like this one from Tilley, which is a top choice among Thomson Safari guides. It'll cover the front and back of your neck, and it's also packable, so you can cram it into your luggage and it will retain its shape when you take it out.
While the classic safari hat above is practical, Gordon admits it's not the most stylish; she prefers a Panama hat like this one. You'll get nearly as much sun protection in a bit more fashionable of a package.
"You can't go on safari without these," says Steinhilber, and nearly all of our experts agree that a good pair of binoculars will enhance your trip. How close you're able to get to animals will depend on where exactly you're going on safari, but Tabuchi explains that in many national parks and game reserves, vehicles are restricted to the road networks, so your driver won't be able to go off-road to follow a pride of lions or elephants bathing in a river. That's when binoculars will really come in handy. Although some lodges and game drives provide loaner pairs, Calmeyer says you'll often end up having to share these with other guests, so it's worth bringing your own. Gordon adds that "not having binoculars holds you back."
All binoculars are labeled with two numbers. The first represents the magnification power (for example, "10" means objects will appear ten times bigger than they actually are), and the second is the lens diameter, which determines the field of vision. Binoculars can range in price from under $100 to well into the four figures for a Swarovski pair that Smith calls "the envy of every safari guide and bird enthusiast." For a safari, Smith says to look for a pair with minimum specs of 8×42, like this mid-range model from Zeiss. With these, Smith says you'll be able to zoom in on incredible sights like a rhinoceros 1,000 yards away.
If you're willing to make more of an investment, the Vortex Viper 10×42 are Smith's personal favorite binoculars. "Those are really good binoculars at a very reasonable price," he says. "I think the glass is good; it's stable. I've had people compare them with much more expensive binoculars."
Smartphone cameras are so high-quality these days that experts say you'll be able to get a lot of great shots with your iPhone — but on safari there are occasions when you'll want a traditional camera. Like binoculars, a camera will be useful when your drive can't get close to an animal and your phone camera's zoom isn't strong enough to shoot a clear picture from 50 yards away. Tabuchi adds that there are some areas where smartphone photography is banned to protect rhinoceroses, as poachers have used geotagged photos to track down the animals. And, as Gordon points out, if there's any occasion to break out your fancy cameras and lenses, it's Africa. Experts say you'll want a minimum of 300-400mm zoom lenses for shooting at typical safari distances.
This Sony is a favorite of both Smith's and Tabuchi's. A bridge between an entry-level point-and-shoot and a high-end DSLR, it has an adjustable telescopic lens that zooms out to 600mm, more than enough to capture lion paws or the eyes of an elephant from a distance. Compared to a DSLR camera with multiple lenses, this one "takes up less space," Smith says, "and you don't have to mess around changing lenses." Tabuchi calls it "stellar," telling us "it's got the functionality and zoom capabilities of a DSLR but has enough automatic features in there for dummies like myself." (If you do choose to go the DSLR route, Tabuchi recommends renting additional lenses from Lensrentals.com to save money on expensive kits you might not use after your safari.)
Here's a more affordable bridge camera that made Calmeyer's list of recommended models for Roar Africa safari guests. She admits it won't be as powerful as a DSLR, but for the price it's a solid option for capturing both close-ups of animals and sweeping landscape shots.
Even pre-pandemic, experts recommended packing hand sanitizer, since you might be eating lunch straight off a game drive or need to take a bathroom break out in the bush and far from running water. Of course, by now we all have our own sanitizer preferences, but Steinhilber especially likes this lavender one because she says it "doesn't have that terrible antiseptic odor." (Interestingly, it's also Sarah Michelle Gellar's favorite.)
"The African sun is brutal," says Calmeyer, and a good sunscreen is an absolute must. Any type you prefer will work as long as it has a high SPF, but if you want a safari-approved pick, Jackson says Badger is a solid "all-natural brand to use all day long."
Don't forget lip protection. Steinhilber says any lip balm you choose must have a strong SPF. She uses this one from Dermatone.
Mosquitos, tsetse flies, chiggers, and other critters are often unavoidable on safari, but a good bug spray can reduce your chances of getting bitten. Now's not the time for organic essential-oil-based repellents that experts say won't be up to the task. Instead, you've got to bring in the DEET. Brittany Silva, a safari trip manager at Thomson Safaris, says this 30 percent DEET spray is one of the best. Another good option is to wait until you land, so that you can buy bug spray from an African company and feel confident that it's designed to repel the local insects. Calmeyer suggests the brands Peaceful Sleep and Tabard. "They work better than anything I've ever got from anywhere else," she says. Gordon agrees, calling Peaceful Sleep "magical."
If you've read our coverage of the best tick repellents, you know we're already big fans of this permethrin spray, which can be used to treat clothing and gear. Smith, along with the team at Thomson Safaris, also uses it and likes the extra protection it provides. You can spray it on your shoes, your hat, and anything else you might be wearing to keep bugs at bay.
If you really don't want to use DEET (which can be smelly and irritate skin), Smith suggests the non-toxic ingredient picaridin as an alternative. "It comes in nice, soft lotions that smell good," he says, "and it's just as effective as high-concentration DEET." He says this Sawyer lotion feels gentle and non-greasy on your skin.
Even if your lodge has a laundry service, if you're moving between places quickly and won't be at a specific lodge for more than one night, Smith recommends packing soap for washing your own clothes. He says, "You can just wash your stuff and hang it up to dry while you're sleeping, so you always have something clean." Also, bringing your own soap is a must if your lodge won't wash your underwear. Jackson recommends this eco-friendly, biodegradable soap for easy cleaning.
"On glamping safaris to the Serengeti, charging opportunities are generally limited to the vehicles and central lounge areas," says Andrew Doherty, manager of special-interest travel at Thomson Safaris. Since you might not have a personal charging station in your tent or lodge, he recommends bringing a power bank that you can charge up when you're near an outlet and then use to keep your phone and other gadgets running when you're out of reach. "That way, you can continue to scan through selfies and edit safari shots on your phone while lying in bed listening to lions roaring in the distance."
"There are three different plugs in Africa," says Gordon. "A universal adapter is good to have because if you're entering different countries, you're just going to want to have all three in one." This adapter will work in popular safari countries like South Africa, Tanzania, Kenya, and Uganda.
Similarly, not all tents and lodges will have lights and electricity at all times. "A lot of places are on generators or solar panels that aren't going to be on all day or all night," says Gordon. "The lights are getting better, but they're not super-strong." While she used to bring a flashlight on safari, she says she now just uses the one on her phone, but still packs a book light for reading at night. A headlamp works too, if you prefer, and we've recommended our favorite one here.
The Strategist is designed to surface the most useful, expert recommendations for things to buy across the vast e-commerce landscape. Some of our latest conquests include the best acne treatments, rolling luggage, pillows for side sleepers, natural anxiety remedies, and bath towels. We update links when possible, but note that deals can expire and all prices are subject to change.