Cryptocurrency markets are showing bullish momentum today, and Metaverse coins are also seeing slight growth as the markets recover. There are hundreds of Metaverse coins on the market, and for new traders, it might be hard to figure out which ones are the real deal. Today we take a look at the top five most traded Metaverse coins dominating the charts, ordered by 24-hour trading volume, lowest to highest.
#5 Enjin Coin (ENJ) – $206 million
Launched in June 2018, Enjin (ENJ) is one of the longest-running cryptocurrency projects on the market. It features a top-rated mobile app with over 1.7 million downloads and is one of the most popular launchpads for NFTs and cryptocurrency projects.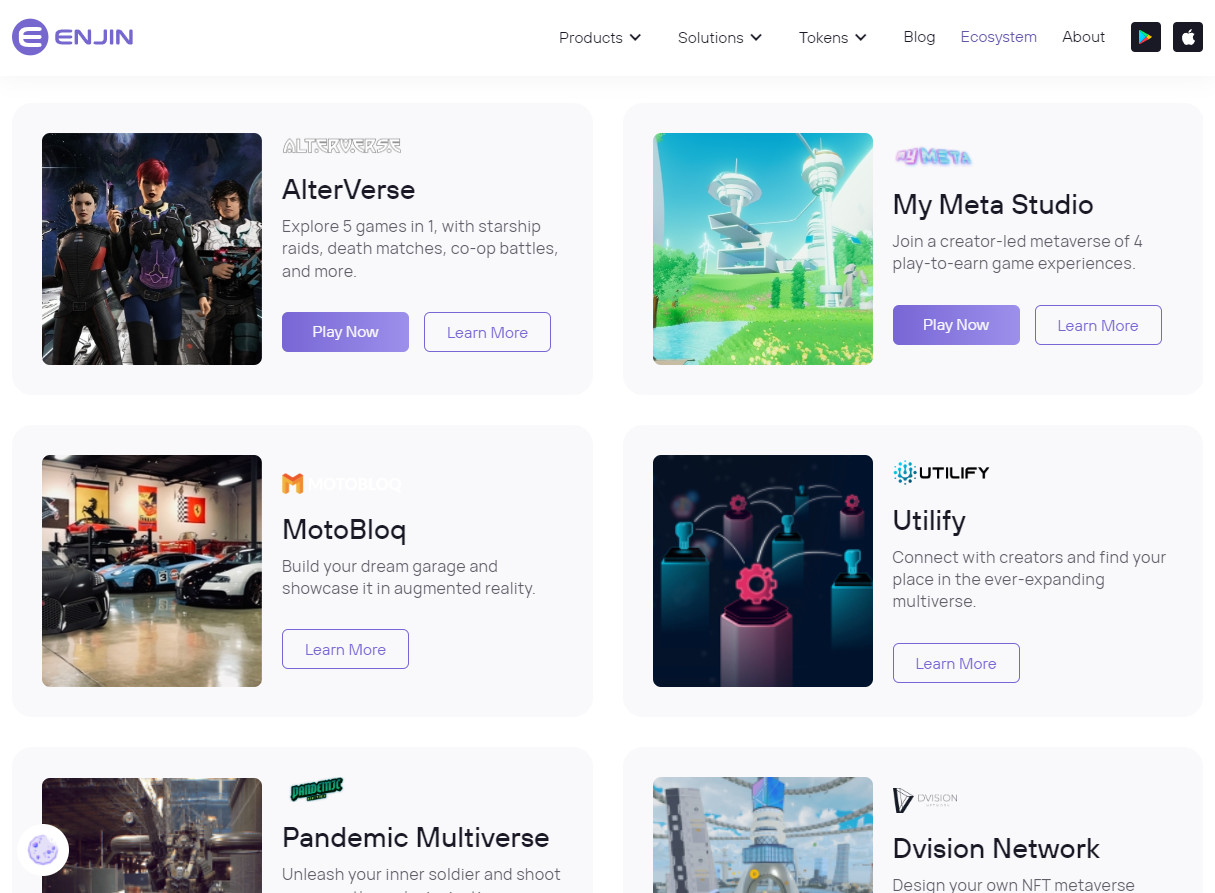 With a market cap of $1.41 billion, Enjin is the 70th largest cryptocurrency on the market and the 7th largest Metaverse coin. Enjin pivoted to the Metaverse with its brand new Efinity blockchain built explicitly for Metaverse and Web3 dApps, and their new blockchain has been catching traction.
Enjin is a one-stop ecosystem for brands, individuals, and developers, focusing on making it easier for users to launch NFTs. It's a highly underrated project that's a must-watch in April 2022 as the team continues to expand its ecosystem. We also recommend looking at its Efinity blockchain that features a growing ecosystem, with one notable project, Newscrypto, garnering support in the Metaverse sector.
The primary utility asset for Enjin's ecosystem is ENJ, powering the Enjin blockchain. ENJ is used for transaction fees, rewards, etc.
You can purchase ENJ on Coinbase, Kraken, FTX, Uniswap, Gate.io, Binance, Bitstamp, Bittrex, Coinlist Pro, Huobi Global, and more.
#4 Decentraland (MANA) – $324 million
Launched in February 2020, Decentraland (MANA) is the highest-valued Metaverse coin on the market, and it comes as no surprise that it's ranked as the fourth-most-traded project on this list.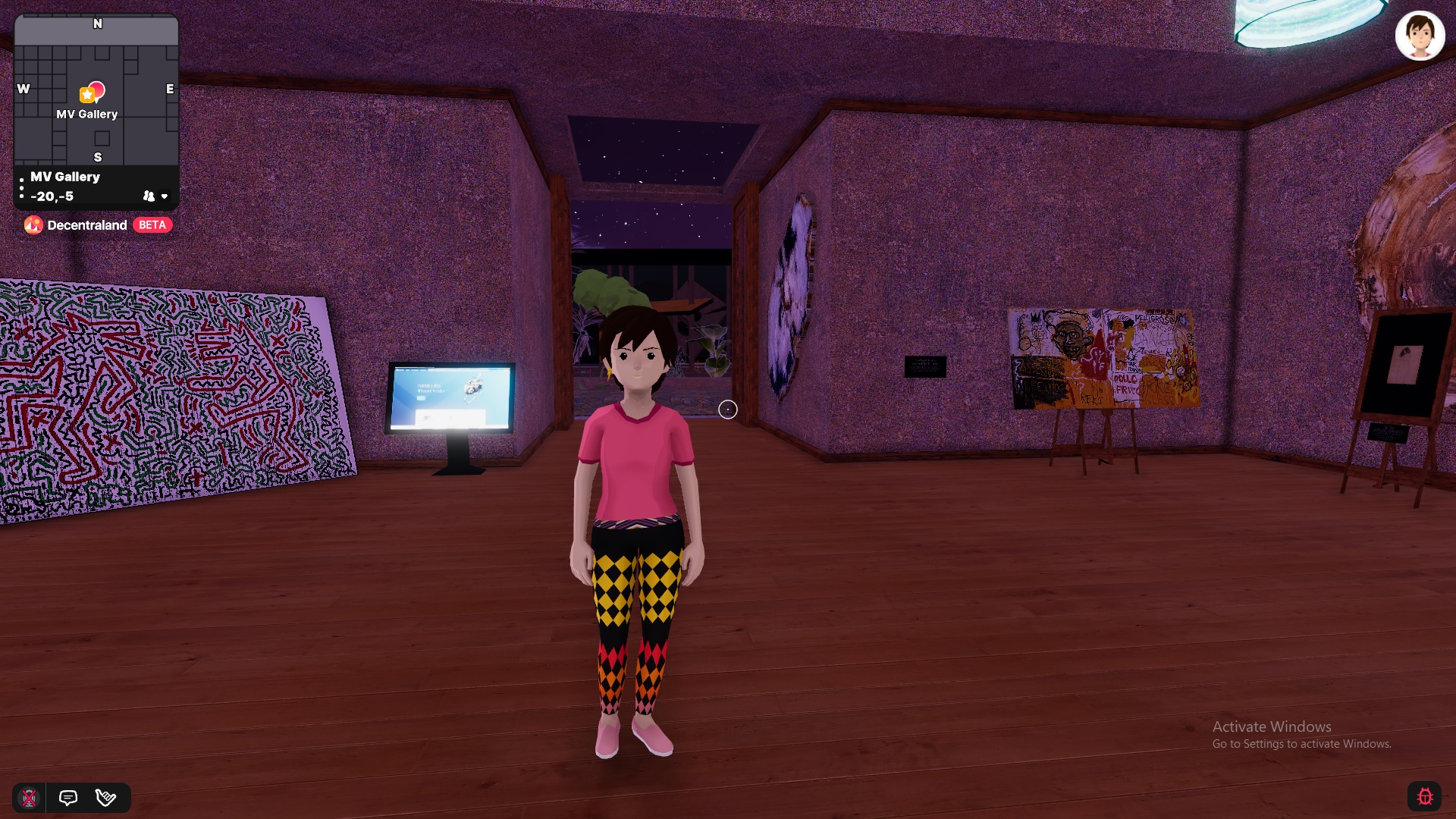 Decentralnad is a pioneer in play-to-earn free-to-play 3D Metvaerses and features both an in-browser and a desktop client experience for users. Decentraland's Metaverse features the most users on its platform, with thousands of players logged into its Metaverse at any time.
Some of the most popular places in Decentralnad are Decentral Games' virtual poker/casino called ICE Poke. It features multiple destinations in Decentraland, each boasting the most amount of users at any time. The ICE Poker tables are the most popular attraction in Decentraland and are free to play, but the catch is users must own an ICE wearable NFT to participate.
Decentraland also features one of the most robust virtual land markets on OpenSea, with a total trading volume of over 231k ETH ($800 million). If you're looking to purchase virtual real estate in the Metaverse, we recommend checking out Decentraland's plots of land. However, keep in mind that these plots of land will cost you upwards of $10,000.
MANA is the primary utility asset on the platform, an ERC-20 token living on the Ethereum blockchain. MANA is Polygon compatible, meaning users can trade it with lower fees. MANA's primary utility is purchasing NFTs in Decentraland, claiming rewards, etc.
You can buy MANA on LBank, Coinbase, Binance, Kraken, Gate.io, Gemini, and more.
#3 Axie Infinity (AXS) – $383 million
Launched in March 2018, Axie Infinity is a highly popular Metaverse NFT game that features one of the most robust communities and active marketplaces for NFTs. It's no surprise that Axie Infinity is the third-most traded Metaverse coin on the market as it's also the fifth-largest Metaverse coin by market cap, boasting a market capitalization of over $2.96 billion.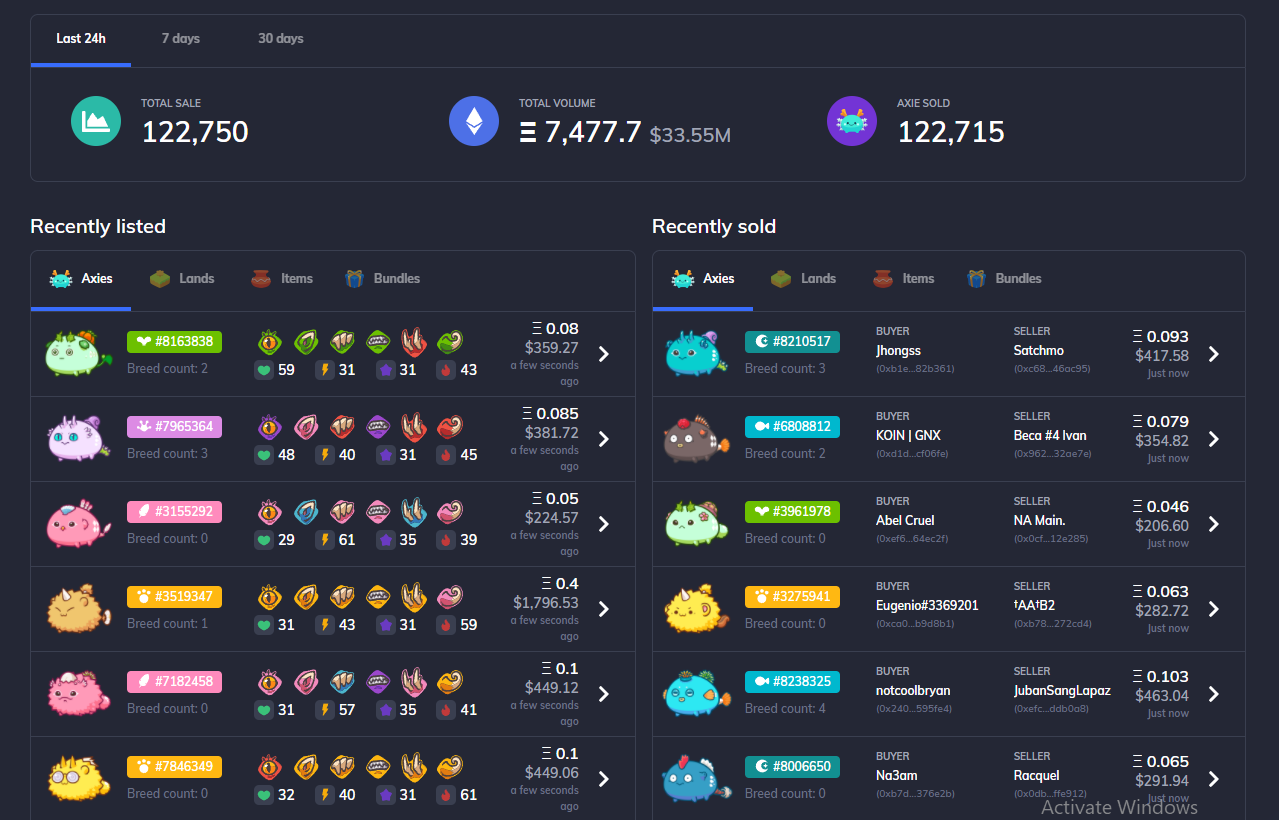 Axie Infinity's gameplay involves users collecting monster NFTs called Axies. Players can upgrade Axies, take on battles, earn rewards, and participate in the game's vast ecosystem by trading Axies on the highly-active marketplace. Axie Infinity was one of the first games that enabled players to earn a significant income via its play-to-earn model, making it a pioneer in the space.
Since Axie Infinity is a blockchain-based project, all in-game assets are tokenized on the platform, enabling full ownership and control to players. The game's ecosystem grew so much that the team decided to make its blockchain called Ronin and a dedicated DEX called Katana, speaking to the sheer scale of the Axie Infinity fanbase and community.
The game features a dual-token economy consisting of SLP (Smooth Love Potion) and AXS. SLP is the primary utility asset that enables players to modify and upgrade their Axies. At the same time, AXS is the governance token allowing the holders to vote on proposals initiated by the DAO.
You can buy AXS on Binance, Gemini, KuCoin, Huobi Global, Binance.US, Kraken, FTX, and more.
#2 The Sandbox (SAND) – $487 million
Launching the Alpha in December 2021, The Sandbox is a primary competitor to Decentraland and comes in as the second-most valued Metaverse coin on the market with a market capitalization of over $3.2 billion. It comes as no surprise that The Sandbox is also the second-most traded Metaverse coin, with a 24-hour trading volume of almost $500 million.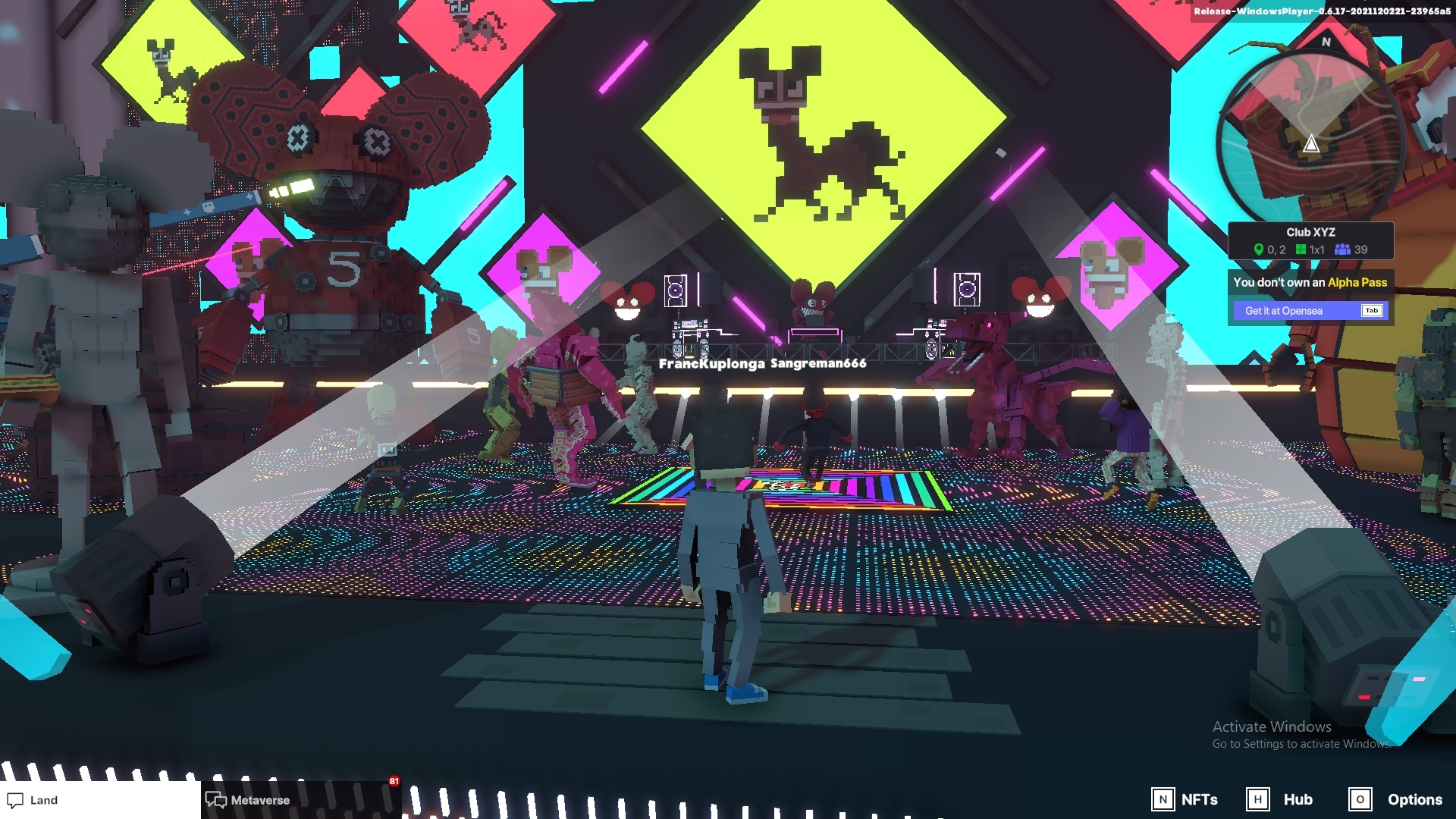 The Sandbox is a 3D Metaverse remarkably similar to Decentraland. However, it features a more RPG-style Metaverse that some call a hybrid between Minecraft and Fortnite.
What makes The Sandbox so popular is its robust community and world-class partnerships with icons like Snoop Dogg, who's building his playground in The Sandbox, the Snoopverse.
Like Decentraland, The Sandbox offers a highly sought-after LAND market on OpenSea. Over $450 million worth of virtual real estate has been sold on the platform, and users can purchase their plot of land for roughly 2.8ETH (~$7k at writing). If you're looking to invest in virtual real estate in the Metaverse, you can't go wrong with The Sandbox.
The primary utility asset on the platform is SAND, enabling users to stake it for rewards, purchase in-game items, and more. While The Sandbox is still in Alpha, users can check out various activities by downloading the client via the official website.
You can buy SAND on Uniswap, Binance, KuCoin, Crypto.com, FTX, Bittrex, ProBit GLobal, ZB.COM, WazirX, MEXC, and more.
#1 ApeCoin (APE) – $684 million
Launching on March 17th, 2022, ApeCoin is the third-most valued Metaverse coin on the market, with a market capitalization of over $3.2 billion. It's also the top-most traded Metaverse coin, with a 24-hour trading volume of $684 million.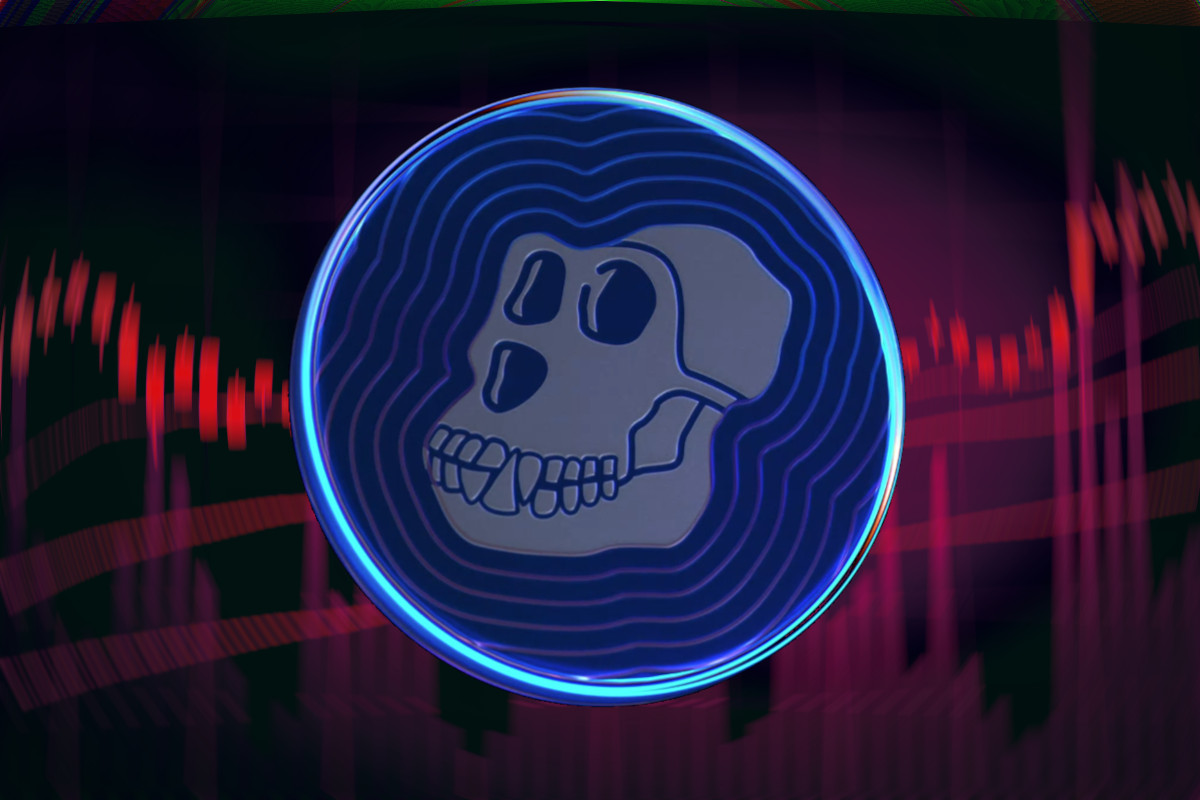 ApeCoin was launched for the Web3 economy and is a Metaverse coin whose primary utility is governance of the APE Foundation. The Ape Foundation will shape the future of the Bored Ape Yacht Club, one of the most popular and highest-valued NFT collections on the market.
The APE DAO will provide ApeCoin holders with voting power to vote on proposals regarding the future of the project and its ecosystem fund. Participation is open to all token holders regardless if they own the BAYC NFT.
As a newly launched Metaverse coin, ApeCoin is highly underrated as it managed to shoot up to the top of the leaderboards with an impressive market cap and currently the highest trading volume of all other Metaverse projects. This means ApeCoin has tremendous long-term potential, and the project is a must-watch in April 2022 and beyond.
ApeCoin also saw significant price gains today, rising by over 11% in the past 24 hours. As the market is starting to recover, ApeCoin could see tremendous price growth in the near future.
The ApeCoin token is an ERC-20 asset built on the Ethereum blockchain. ApeCoin features a total supply of 1 billion tokens, and its current utility is governance. As the team expands ApeCoin's ecosystem, it will include additional utilities for the coin, such as interacting with its Metaverse, staking, claiming rewards, etc.
You can purchase ApeCoin on KuCoin, Coinbase, Uniswap, Gemini, Kraken, Binance, Gate.io, and more.
Disclosure: This is not trading or investment advice. Always do your research before buying any Metaverse coins.
---
Also Read:
Top 3 Metaverse Coins With a Market Cap Under $25 Million (April 2022)
Follow us on Twitter @thevrsoldier to stay updated with the latest Metaverse news!