The Terra price has done well in the past few weeks as cryptocurrencies stage a comeback. LUNA, its native token, is trading at $92.45, which is the highest it has been since January 3rd this year. It has risen by more than 112% from its lowest level this year, bringing its total market capitalisation to more than $35 billion. It has even outperformed the leading cryptocurrencies like Ethereum and Bitcoin.
Stablecoin demand
Terra has grown from a relatively small blockchain project into one of the biggest ones in the world. The network was started in South Korea in 2018 to solve the key challenge of volatility that existed in the industry.
While the idea of cryptocurrencies was good, the volatility it brought made it impossible for them to be accepted by retailers. Therefore, the team behind Terra built an application known as Chai that is currently used by millions of people in South Korea.
The team has also launched a number of stablecoins such as Terra USD. The market capitalization of USDT has jumped to more than $13 billion, making it the fourth-biggest stablecoin in the world after Tether, USD Coin, and Binance USD.
One possible reason why the Terra price has done well is possibly because of the rising demand for stablecoins from Russia. According to media reports, many Russians have moved to stablecoins like Terra UST, Tether, and Binance USD.
Another reason why the LUNA price has jumped sharply in the past few days is the growth of Terra's DeFi ecosystem. According to DeFi Llama, the total value locked (TVL) in Terra has jumped by 20% in the past 24 hours and 50.77% in the past seven days.
It now stands at more than $23 billion, making it the second-biggest smart contract platform. Most of these gains are coming from the Anchor Protocol, Lido, Stader, and PRISM Protocol.
Terra price prediction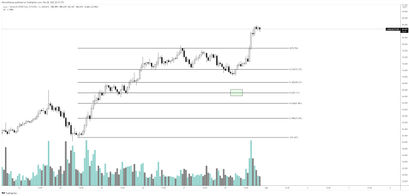 The four-hour chart shows that the Terra price has been in a strong bullish trend in the past few days. It has jumped by more than 100% from its lowest level this week. As a result, the coin has moved above the 25-day and 50-day moving averages while the MACD has moved above the neutral level.
Therefore, there is a likelihood that the LUNA price will continue growing as the ecosystem grows. If this happens, the next key resistance level to watch will be at $100.