Many investors are now expecting an equity market correction of up to 10% by the end of the year — as caution over the bull market rally growth.
Deutsche Bank's latest survey of over 550 market professionals across the world, published this morning, has found that 58% expect a correction of between 5% and 10% by the end of 2021.
One in ten are bracing for a steeper selloff, while nearly a third think the markets will reach 2022 without a tumble.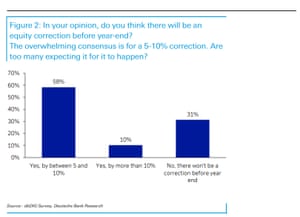 2021 has been a very strong year for the markets, with America's S&P 500 up over 18% since the start of January, and Europe Stoxx 600 gaining 17%. The UK's FTSE 100 has lagged, but is still up over 9%.
Central bank stimulus, government spending, and optimism that vaccines will spur a strong recovery have helped global markets almost double since the crash of March 2020.
A 10% correction would still leave most of the pandemic-gains intact, after a rally which has pushed stock-market valuations very high on most historical measures.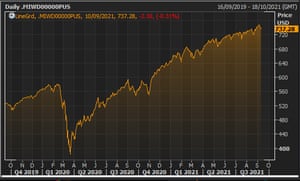 The risk of new variants of Covid-19 that bypass vaccines is the biggest risk to market stability, Deutsche Bank's survey found. However, the vast majority of respondents expect that current dose vaccines will still prevent at least severe cases of Covid.
That's followed by concerns about rising inflation, a weaker-than-expected recovery, and worries that central banks could make a policy error (such as ending stimulus too quickly).
Geopolitics, the risk of a tech bubble bursting, and rising debt burdens also feature on the list of concerns: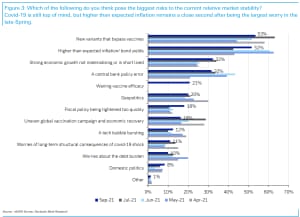 Looking ahead, a net 14%* of investors predicted that the S&P 500 index will be higher in 3 months, the second lowest reading in a year [* showing that more expect it to be higher, rather than lower].
And they remain optimistic about the longer-term, with a solid majority expecting US and European equities to be higher in a year (a net balance of over 40%)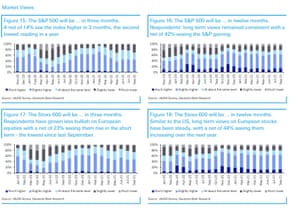 Marketwatch published a good piece on this issue over the weekend – here's a flavour:



Stock-market valuations are "historically extreme" by almost every measure. And while valuation corrections don't necessarily result in market pullbacks, the risk of a "hard" correction is growing, warned a top Wall Street strategist.

"With the current cycle advancing very quickly, the risk that the correction is hard is growing," wrote Binky Chadha, chief strategist at Deutsche Bank, in a Thursday note.

The warning comes as Wall Street firms have expressed nervousness as equities continue to rally, pushing major indexes to all-time highs, without any significant pullbacks. Including Friday, the S&P 500 has gone 214 trading days without a 5% pullback, rising more than 33% over that stretch. That's the longest run without a pullback since a 404-day run that ended on Feb. 2, 2018, according to Dow Jones Market Data.