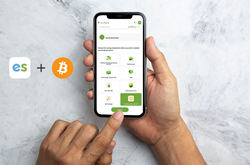 "We are pleased to add Crypto as a new destination for EvoShare as Crypto continues to become a strong mainstream savings and investment destination for people globally. This represents the first step in our roadmap to embrace Crypto as a meaningful and valuable destination."

BERKELEY, Calif. (PRWEB)
April 05, 2022
EvoShare's revolutionary cash-back program automatically makes contributions to a member's financial destination choice. Cryptocurrencies now join existing financial destinations such as IRAs, Emergency Savings Accounts, HSAs, 529 College Savings plans, and payments on student loan debt or mortgage accounts.
Utilizing Metal Pay as the integrator to funnel cash back to: $BTC, $MTL, $XPR, $BNB and 60+ other cryptocurrencies, EvoShare members have access to EvoShare's robust proprietary technology which makes it possible to earn cash-back at over 700k hotels worldwide, 1,500+ unique online merchants, and at over 50k physical stores and restaurants in the US.
Chief Product Officer Aditya Menon said the following regarding the Metal Pay x EvoShare integration: "We are pleased to add Crypto as a new destination for EvoShare as Crypto continues to become a strong mainstream savings and investment destination for people globally. This represents the first step in our roadmap to embrace Crypto as a meaningful and valuable destination for EvoShare users and our business partners. We see enormous value in the transparency and efficiency that Crypto brings to the cash back ecosystem and this ensures that we are front and center in this revolution."
Current EvoShare members will need to link to their existing Metal Pay account, or create a Metal Pay account to transfer funds to cryptocurrency — ready to take advantage of what EvoShare has to offer? Risk free trial: Sign up to become an EvoShare member..
About EvoShare:

EvoShare is the most robust cash-back savings infrastructure that enables users to earn on everyday spending, and in turn automatically apply that cash-back towards an existing IRA, Emergency Savings Account, HSA, 529 College Savings plan, Cryptocurrency Accounts or to help pay off student loan debt or a mortgage account.
EvoShare has been featured in Forbes, Inc., Entrepreneur, and The Huffington Post. It won the 2019 DC Genie Award from 401(k) TV for "Best Financial Technology" and was a finalist for KNect365's 2019 Finovate Award for "Top Emerging Tech Company." In 2021, EvoShare was named a finalist in the MoneyPitch: Money 20/20 Competition, held at the Money 20/20 Global Conference.
Share article on social media or email: