In a previous article about cruise stocks I wrote in June, I focused on analyzing the fundamentals of these companies to assess how they could be performing once the pandemic is over and whether they were undervalued or not at their levels back then.
Much has happened since then as concerns about the spread of the Delta variant have plunged the price of cruise line stocks as investors took cover amid the potential prolongation of the pains these companies have suffered in the past year or so.
For the purpose of this article on the best cruise line stocks for July, I'll be focusing on the technical readings of the three most important cruise operators while looking at two other potentially promising players in this space.
67% of all retail investor accounts lose money when trading CFDs with this provider.
Carnival Corporation (CCL)
The price of Carnival Corporation stock remains well below its pre-pandemic highs, while the valuation of the company has retreated as much as 32% since the price reached its post-pandemic peak of $32 per share back in early June.
The severity of this bear market is further illustrated by the Relative Strength Index (RSI), as the oscillator has plunged to its lowest levels since the pandemic crash of February-March last year. In a similar fashion, the MACD is posting its worst post-pandemic reading and has been in negative territory for a month already.
However, the past two days have been encouraging for Carnival, as the stock has bounced off the $19 level sharply during two high-volume sessions. Yesterday's jump has been the most pronounced of the two, with CCL advancing as much as 7.5% while pre-market stock trading action is pointing to another 3% advance.
The reason for this potential reversal in the latest downtrend was an announcement made by the company on Tuesday where Carnival's management boldly stated that they will be able to reactivate 75% of the company's fleet by the end of 2021 with announced sailing dates already being scheduled for 54 ships.
Following the announcement, shares quickly trimmed their daily losses while yesterday's uptick confirmed the importance of this business update for market participants.
Even though the stock could still experience some weakness moving forward, the $19 level should now serve as a strong support area for Carnival in the next few days and it could serve as a launching pad to propel the share price to the $25 level for a plausible 14% upside potential.
Royal Caribbean Cruises (RCL)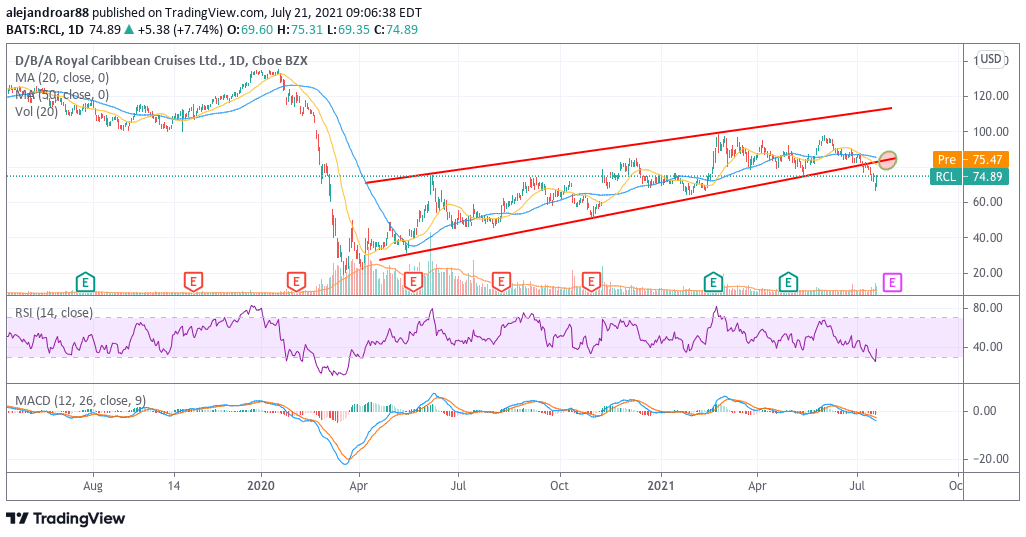 The downtick experienced by Royal Caribbean stock was a bit less pronounced than that experienced by Carnival, with the stock declining only 23% after its early June high of $97.5 per share.
On 3 July, Royal Caribbean announced that it will be operating its first trip out of United States waters with a 93% occupancy for vaccinated passengers only. This is an important event for the firm after 16 months of inaction and may have slowed down the selling pressure during these past weeks.
For now, the stock price seems to be making a U-turn as well following an overly low reading in the RSI. However, the upside potential for Royal Caribbean is perhaps lower compared to Carnival as the stock has to overcome its former lower trend line support at $84 per share that could now turn into resistance for the upcoming price action.
Norwegian Cruise Line Holdings (NCLH)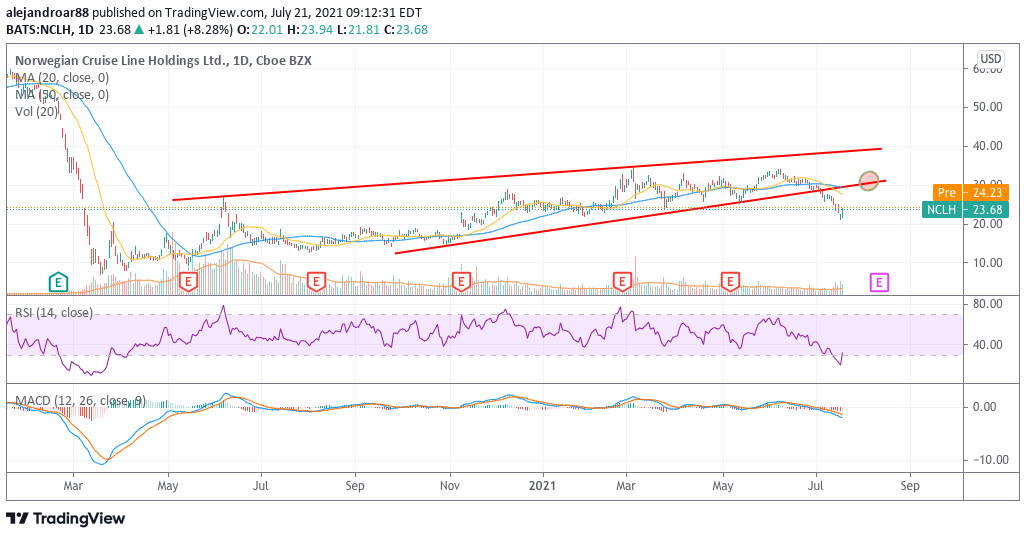 The price action seen by Norwegian is awfully similar to the one seen in Royal Caribbean's chart, almost as if we were analyzing the same stock. For this company, the RSI is also climbing above oversold territory after posting its worst reading since the crash while there is also an upcoming trend line resistance that previously acted as support at the $30.5 level.
The upside potential for NCLH, however, is higher than that of Royal Caribbean if the uptrend continues until tagging that particular level.
Disney (DIS)
Although not a pure-play cruise operator, Disney stands to benefit from the recovery of the industry as that would result in higher revenues for its Parks & Experiences segment.
Earlier this month, the price of Disney climbed above a long-dated support/resistance area at the $182 level following some positive news about the box office results of its latest Marvel movie.
However, the stock price dived below that important threshold only a few days after as investors continue to worry about the impact that the Delta variant could have on the firm's revenue-generation capacity.
Disney is expected to report its earnings covering the third quarter of its 2021 fiscal year on 12 August and until then the price could continue to trade range-bound between $160 and $180.
Disney's bottom-line profitability is not expected to recover to pre-pandemic levels until 2023 according to estimates compiled by Koyfin. However, those estimates seem overly pessimistic as the company will be returning to a post-pandemic world with a fresh strategic approach that could turn into higher margins on the back of a solid streaming offering and a full-blown recovery of its hospitality and entertainment operations.
If that is your belief as well, Disney would be trading at only 28 times its 2019 earnings per share of $6.3 and any further weakness in the price could provide a more attractive entry point for those who would like to take a long position on this long-standing entertainment powerhouse.
Fincantieri (MIL: FCT)
Fincantieri is an Italian shipbuilding company that builds cruises and other vessels for commercial clients including the three most important cruise lines mentioned above. Even though the firm's bottom-line results have been suffering lately due to the pandemic situation, Fincantieri's balance sheet displays the robustness needed to survive the downturn and thrive after it is over.
Sales for the company have grown from $5.9 billion in 2017 to $7.1 billion by the end of last year at a compounded annual growth rate of 6.4% although gross margins have been deteriorating progressively from 25% to 21% during the same period.
However, the firm's solvency and liquidity remain strong as the company held $2.6 billion in long-term debt only on total assets of $10.6 billion including $1.6 billion in cash and equivalents.
As per analysts' estimates, FCT's profitability should progressively recover in the following years, with earnings per share expected to land at EUR 0.05 this year while they are forecasted to grow to EUR 0.09 and 0.11 in the following two years at a 48% CAGR. These estimates are fairly positive and they make Fincantieri an undervalued stock based on its currently P/E ratio of 11. That is, as long as the company can live up to those expectations.
Buy Stocks at Vindax FX, the World's #1 trading platform!